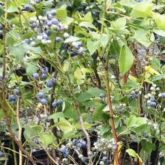 Patriot blueberry was released by the University of Maine so you know it's hardy! It is a vigorous and an upright grower that is adaptable to many soil types including heavy soils. Patriot Blueberry produces large berries with very good flavor. Compact shape makes it a beautiful landscape choice as well. It grows 3-5′ tall and 2-3′ wide  and is harvested in the summer.
Harvest large, juicy, healthy blueberries from your own blueberry bush!
Vigorous, Hardy Plants. Exquisite flowering & fruiting shrub.  Plant multiple bushes for a living fruiting hedge (plant 4' apart). Waxy green summer foliage followed by bright orange-red fall color.
Blueberries are somewhat self-fertile, but larger berries and a higher percentage of fruit setting results from fertilization by another variety, check related products for best matches.
Attracts bees & other pollinators!
Hardy in zones 3/4-7
Wondering about planting & care?
Check out our other Blueberry Varieties!
Thank You for visiting Gardenland USA!
Restricted states – AK, CA, GA, HI, MI, OR, WA.
For larger crops, pollinate with Duke.