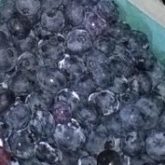 This productive and decorative plant is considered the best early season blueberry available. Duke Blueberry will grow medium to large size berries which are produced in abundance, so heavy you may need to support the branches! They have a delicious tangy sweet flavor which is ready to harvest in late May. It is cold hardy (zones 4-7), grows 4-6′ tall, 5-6′ wide and makes a wonderful decorative hedge. Blooms a little later then other early varieties so it's also a good pollinator with mid season varieties like Bluecrop or Berkeley.
Enjoy large, juicy, healthy blueberries from your own blueberry bush!
Vigorous, Hardy Plants. Exquisite flowering & fruiting shrub.  Plant multiple bushes for a living fruiting hedge (plant 4' apart). Waxy green summer foliage followed by bright orange-red fall color.
3 seasons of interest:
1 – White pink tinged flowers (Spring)
2- Light blue fruit with deep green foliage (Summer)
3- Vibrant red and yellow foliage (Fall)
Blueberries are somewhat self-fertile, but larger berries and a higher percentage of fruit setting results from fertilization by another variety, check related products for best matches.
Hardy in zones 5-7.
Wondering about planting & care?
Check out our other Blueberry Varieties!
Thank You for visiting Gardenland USA!
Restricted states – AK, CA, GA, HI, MI, OR, WA.