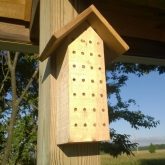 Increase your chances of good pollination! The Orchard Bee (mason bee) is a small harmless, blue-black species that can greatly increase crop yields in their area. Orchard (Mason) bees increase pollination as they visit hundreds of flowers a day. They can pollinate up to 99% of the flowers they visit.  Mason bees are resistant to the mites that affect honeybee populations.
A true asset for fruit & berry growers as well as home gardeners.
Orchard bees are not honey producers so they require a special nesting site. This "condo" will provide the perfect home to draw them to your property and keep them coming back. The female will pack pollen and nectar, plus eggs in the cavities until the holes are filled. New bees emerge next spring. Can be mounted on tress, posts or out buildings.
Check out our other Unique Items!
Thank You for visiting Gardenland USA!
*Bees not included.
13″ H x 6″ D x 8″ W