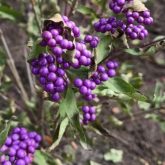 Purple Beautyberry (Callicarpa dichotoma) is a compact deciduous shrub with upright form.  Enjoy the show from spring to first frost!  Dark purplish foliage is augmented with clusters of small pink flowers in late summer.  Fall brings the bold purple berries that remain after the leaves have dropped. Easy to grow and works in any situation – specimen, borders, hedges, mass plantings or containers.  Excellent for fall floral arrangements as well.  Adaptable to many soil types but prefers good drainage.  Beautyberry generally have few pest problems and are easy to grow.  Prefers full sun but will preform in partial shade. Mature Plant reaches 4-5′
Attracts bees & butterflies.  Deer Tolerant.
10/12″ plant.
Hardy in zones 5-8
Wondering about planting & care?
Check out our other Flowering Shrubs!
Thank You for visiting Gardenland USA!