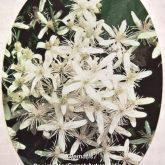 Clematis Paniculata is also known as Clematis Sweet Autumn. It possesses an intoxicating vanilla scent and a white star shaped 1″ flower.  Blooms from late summer through mid fall, right when color is needed most.  Slow to break dormancy in the spring, mature plant will grow 20-30′ per year, making it an excellent screening plant. Perfect for trellis, fences, mail boxes etc.  Foliage gives nice fall color. Does well in containers.
Attracts bees, butterflies & hummingbirds.
Drought tolerant, deer, rabbit and pest resistant.
Prune hard late winter or early spring (Group 3)
Hardy Zones 4-9
Wondering about planting & care?
Check out our other Clematis!
Thank You for visiting Gardenland USA!
You will receive a well rooted vine, propagated and grown in a controlled and inspected greenhouse environment. Your plant will be professionally pruned and packed to arrive viable and ready to plant. The most economical way to start improving your landscape.

Root is packed in proper media and wrapped in poly bag for maximum viability till you are ready to plant. Protective package contains pictures and all the information you need to successfully grow your clematis vine.