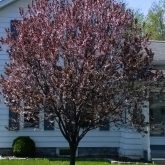 Purple Leaf Plum (Prunus cerasifera) features deep purple foliage with light pink flowers in May. Provides interest and color spring through late summer. A deciduous tree, they drop their leaves in the fall but the interesting dark colored trunk and branches add to your winter landscape. A dense upright grower perfect as a specimen tree.  For best color and results, choose a location with full sun or partial shade. Produces small edible fruit for wildlife!
Mature plant reaches 20-25′
4′ Lightly branched tree.
Hardy in zones 4-8
Wondering about planting & care?
Check out our other Ornamental & Flowering Trees!
Thank You for visiting Gardenland USA!