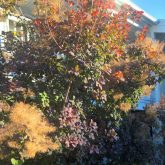 Purple Leaf Smoke Bush (Cotinus coggygria atropurpurea) is a unique "flowering" bush, perfect as a specimen or border plant that provides a show spring through fall. Misty pink flower panicles resembling smokey puffs accent purple foliage that transitions to a mix of yellow, orange and red in the fall. Your Purple leaf smoke can be grown as a shrub with minimal pruning to shape, or can be trained to grow as a tree for a spectacular specimen plant.  See plant care instructions for pruning information.
Mature plant reaches 12-15′.
Deer Resistant and drought tolerant.
12/15″ plant.
Hardy in zones 5-8
Wondering about planting & care?
Check out our other Flowering Shrubs!
Thank You for visiting Gardenland USA!