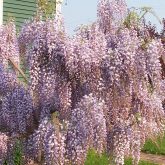 Purple Wisteria Vine (Wisteria sinensis) – is a woody, deciduous vine with magnificent fragrant pea-like clusters of lavender flowers up to a foot long! Flowers are followed by bean like seed pods that have an attractive velvety cover. Typically grown as a vine along walls, arbors etc. it can also be trained to grow as a tree, and  makes a magnificent specimen. Wisteria do require regular pruning to control size and shape, especially in warmer climates.  Vigorous pruning also promote flowering!  Vine reaches up to 40′ when mature.  Size can be controlled if trained as a tree.
Deer Resistant.
12″ plant
Hardy Zones 5 – 9
Wondering about planting & care?
Thank You for visiting Gardenland USA!
Restricted State – WI, IL
You will receive a 12/15″ well rooted plant, packed for shipment. Along with detailed instructions.

Root is packed in proper media and wrapped in poly bag for maximum viability till you are ready to plant. Protective package contains pictures and all the information you need to successfully grow your wisteria vine.