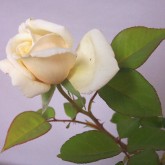 Lily Pons is a Brownell Sub Zero Rose variety with creamy white 50 petal blooms and a very spicy fragrance. Blooms in clusters on long stems that are perfect for cutting!
Attracts butterflies, bees & hummingbirds.
Grows 4-6′ tall, 2-3′ wide and blooms freely all summer.
These roses increase with size and beauty each year, reaching their peak in the 4th or 5th season.
Years of research and the eventual cross-breeding of rosa wichuraiana and modern Hybrid Tea type roses by Dr. & Mrs. Brownell in Compton R.I., paid off with these sub zero hardy, heat & drought tolerant, diseases resistant Hybrid Tea type roses for the home gardener!
Very disease resistant.
2 yr. #1 rose.
Sub Zero Hardy Rose zones 5-9 without protection.  Zone 4 with protection.
Wondering about planting & care?
Check out our other Sub Zero Rose Varieties!
Thank You for visiting Gardenland USA!