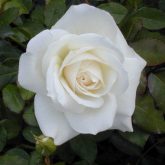 Flower is among the purest white of all roses, which makes for elegant cut flowers.  Striking pointed buds open to huge, fully double centered 5 1/2″ blooms with 40+ petals. The bloom has a light fragrance.  Snow Queen rose (frau karl druschki) is a hardy and vigorous rose that grows 5-6′ tall and 3-4′ wide.
Known as an easy to grow dependable rose, a great choice for home gardeners.
Hardy in zones 5 -9 without protection.
Hybrid Teas produce large individual blooms on tall straight canes. They are ideal for cut flowers and make excellent showpieces in your garden or yard.
2 yr. #1 rose.
Wondering about planting & care?
Check out our Sub Zero Rose Varieties!
Thank You for visiting Gardenland US