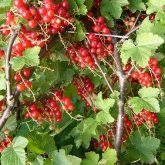 Currant Red Lake produces huge clusters of large, uniformed, deep red, juicy flavorful berries. Used in jams, jellies, pastries, tarts, muffins, wines and preserves. Great for canning or freezing! Berries ripen in July and are high in vitamin C and antioxidants. These very hardy self pollinating plants will grow 3-5′ tall with a width of 3-4′ and attract many bird species to your landscape!
Fruit sets and crop yields increase significantly when pollination is maximized through the activity of bees.
(ribes rubrum – red lake)
Check out the rest of our small fruit plants and plan your Edible Landscape!
Wondering about planting & care?
Thank You for visiting Gardenland USA!
Restricted states – DE, MA, ME, MI, NH, NJ, NC, RI, WV
You will receive a well rooted currant plant with roots packed in media and top protected for shipment to insure plant viability along with directions.