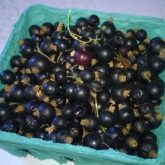 Currant Black Consort features strong flavor that is ideal for jams and preserves. Also high in vitamin C and omega fatty acids. Very hardy and self pollinating plants, with berries that ripen in June. White, bell shaped, fragrant flowers in spring will attract bees and butterflies to your yard. Fall leaves turn red and yellow adding color to your landscape.
Fruit sets and crop yields increase significantly when pollination is maximized through the activity of bees!
(ribes nigram – Consort) Consort is a cultivar shown to be immune to white pine blister rust and not restricted in OH.
Check out the rest of our small fruit plants and plan your Edible Landscape!
Wondering about planting & care?
Thank You for visiting Gardenland USA!
Restricted states – DE, MA, ME, MI, NH, NJ, NC, RI, VA, WV
You will receive a well rooted currant plant with roots packed in media and top protected for shipment to insure plant viability.