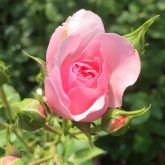 AARS winner, named for Queen Elizabeth II.  Considered the first "Grandiflora", Queen Elizabeth rose grows up to 8′ tall & 3 1/2′ wide.  Its slender and elegant flowers are comprised of slightly pale pink petals that hold up well to the elements. These hybrid tea type blooms come in clusters of 3 – 15, hence its classification as a "Grandiflora".  The flowers give off a medium sweet fragrance and repeat well. Narrow upright growth habit works well in limited space.  Does well in poor soil.
Can attract bees & butterflies.
Hardy in zones 6-9 without protection.
Grandifloras produce large blooms in clusters on tall straight canes. They are ideal for cut flowers and make excellent showpieces in your garden or yard.
2 yr. #1 rose.
Wondering about planting & care?
Check out our Sub Zero Rose Varieties!
Thank You for visiting Gardenland US