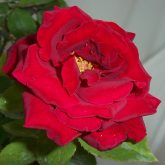 AARS winner, at one time the most popular crimson red Hybrid Tea rose in the USA.  Mister Lincoln rose features classic, elegant buds opening slowly to reveal large thick petals with dark edges. Long stem rose ideal for cutting. Vigorous upright grower.  Excellent color and fragrance.
Bush grows 3-5′ tall, 1 1/2 – 3′ wide.
Can attract bees & butterflies.
Hardy in zones 6-9 without protection.
Hybrid Teas produce large individual blooms on tall straight canes. They are ideal for cut flowers and make excellent showpieces in your garden or yard.
2 yr. #1 rose.
Wondering about planting & care?
Check out our Sub Zero Rose Varieties!
Thank You for visiting Gardenland US