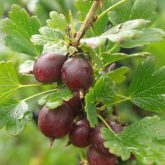 Self pollinating plants, gooseberry Pixwell, produce large light green berries that ripen to blush pink. Fruit has a high sugar content making it perfect for irresistible pies, jellies and preserves. Mature plant will reach 3-5′ height and 3-6′ wide.  When planting multiple bushes, space 4 – 6′ apart. Grows in full sun to partial shade, tolerant of most soil types.
Fruit sets and crop yields increase significantly when pollination is maximized through the activity of bees.
(ribes uva-crispa, Pixwell)
1yr. well rooted #1 plant.
Very Hardy!  Zone 3-8
Check out the rest of our small fruit plants and plan your Edible Landscape!
Wondering about planting & care?
Thank You for visiting Gardenland USA!
Restricted states – DE, MA, ME, MI, NC NH, NJ, RI,WV
You will receive a well rooted currant plant with roots packed in media and top protected for shipment to insure plant viability along with directions.