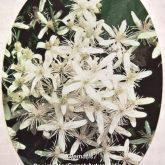 Clematis Paniculata is also known as Clematis Sweet Autumn. It possesses an intoxicating vanilla scent and a white star shaped 1″ flower.  Blooms from late summer through mid fall, right when color is needed most.  Slow to break dormancy in the spring, mature plant will grow 20-30′ per year, making it an excellent screening plant. Perfect for trellis, fences, mail boxes etc.  Foliage gives nice fall color. Does well in containers.
Attracts bees, butterflies & hummingbirds.
Drought tolerant, deer, rabbit and pest resistant.
Well-rooted greenhouse grown plant in 2.5″ pot.
Prune hard late winter or early spring (Group 3)
Hardy Zones 4-9
Wondering about planting & care?
Check out our other Clematis!
Thank You for visiting Gardenland USA!