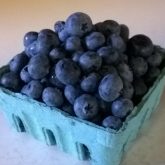 Bluecrop blueberry is a mid season variety, featuring medium light blue, firm berries. The most widely planted mid season variety, it has the best yield of any all-purpose blueberry with excellent flavor, freezing quality and winter hardiness. Ripens July to August. Disease resistant bushes reach 5-6′ tall and 4-6′ in width. Its fiery red fall color and reddish branches make it an ideal landscape plant as well!
Enjoy large, juicy, healthy blueberries from your own blueberry bush!
Vigorous, Hardy Plants. Exquisite flowering & fruiting shrub.  Plant multiple bushes for a living fruiting hedge (plant 4' apart). Waxy green summer foliage followed by bright orange-red fall color.
Blueberries are somewhat self-fertile, but larger berries and a higher percentage of fruit setting results from fertilization by another variety, check related products for best matches.
Hardy Zone 4-7.
Wondering about planting & care?
Check out our other Blueberry Varieties!
Thank You for visiting Gardenland USA!
Restricted states – AK, CA, GA, HI, WA.
Just the plant, Well rooted plant packed in moist media for shipping purposes. If you know what you want and know what you are doing, the perfect cost effective way to start your own edible landscape.

Professionally pruned and packed to give your plant a head start. Plant and root ball wrapped in a poly bag to retain moisture and insure your plant will remain viable until you are ready to plant. Packaging contains picture, variety information and full planting directions. Perfect if you're not yet a "green thumb" or if you may not be ready to plant immediately on receipt. Also a great way to share as a gift!