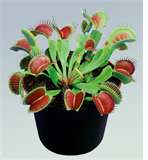 Kids of all ages love the legendary Venus Fly Trap! Healthy vigorous plants come in a 3″ grow pot with their own "grow dome". Colorful red, green and yellow exotic action plant (Dionaea muscipula) attracts and traps its own food. Native to the coastal Carolina wetlands of the United States, these truly unique plants are easy to grow, instructions included.  Our plants are greenhouse grown in their native region, not collected from the wild to insure sustainability.
Check out our other Unique Items!
Thank You for visiting Gardenland USA!
Growing plant, shipped in its own grow dome.