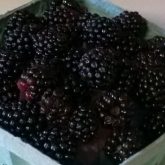 Deep blue to black delicious berries are produced in abundance without a trellis by these upright Thornless Navaho Blackberries! These sweet flavored blackberries have the highest sugar content of any Arkansas variety. They can be stored for 3-4 WEEKS while remaining sweet and firm. Excellent for table fruit, syrups, jams and jellies. This abundant fruit will be ready to harvest by the end of July. A mature plant can produce up to 10-12 pounds of berries. Disease resistant upright thornless plants are easy to grow.  Fruit contains vitamins, minerals and many healthful properties.
Great plant for attracting and supporting bees and butterflies!
These blackberries bear for over a month beginning in mid June and are very productive bearing large crops of flavorful fruit.
Upright growing nature allows it to be grown in containers if desired. Just be sure the container is wide & deep enough. Grow 4-5′ tall and 3-4′ wide.
Plant 2'-3' apart to make an edible hedge approx 4' tall. It does not need a trellis or support.
Wondering about planting & care?
Check out our Raspberry Varieties!
Thank You for visiting Gardenland USA!
Restricted states – AK, HI.
BR – 3 plants
Packaged – 2 plants