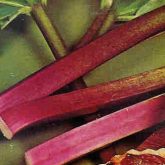 One of the all time favorite early spring crops. Rhubarb Canada Red stalks are easily harvested for 8-10 weeks each year. One of the reddest of varieties, Canada Red produces 2-3′ deep red tender stalks that are excellent for cooking.  Color carries through the stalk and remains after baking/cooking.
A perennial vegetable considered a fruit, you will enjoy for years to come. Plantings can be productive for 20+ years with proper maintenance. Easy to harvest, great for pies, jams, sauces.
Zone 2-9 hardy, and produces good yields.
Wondering about planting & care?
Thank You for visiting Gardenland USA!
You will Receive (3)  #1 Root Divisions.
N/A  AK, AZ, CA, HI, OR, PR, WA
You will receive (5) #1 root divisions, packed for shipment. Can be stored in refrigerator (38-40F) up to 2 weeks.