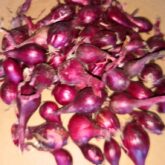 Red Onion (allium cepa) sets. Grow your own!
Plant early spring.  4 to 5 weeks to green onions or 85 days to mature dry onions.

Deep purple skin. Firm, pink-tinged white flesh with red circles. Strong flavor.

Spacing: 4 – 6 inches between plants, 12 – 24 inches between rows.
Wondering about planting & care?
Thank You for visiting Gardenland USA!
You will Receive (approx 100)  7/8″ bulbs.