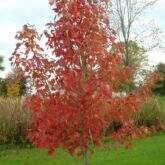 Red Maple (Acer rubrum) Native maple tree famous for its scarlet red fall color!  Thrives in most soils and is an excellent choice for damp areas as it will tolerate wet roots.  Quick growing native tree makes a great addition to your personal environment.
Mature plant reaches 50-60′.
4′ Lightly branched tree.
Hardy in zone 3
Wondering about planting & care?
Check out our other Ornamental & Flowering Trees!
Thank You for visiting Gardenland USA!