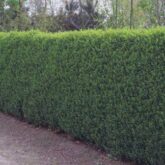 A favorite shrub for privacy. Privet hedge (Ligustrum amurense) is the go to plant for creating a "living" fence.  Makes an ideal hedge with a neat trimmed shape. Can be maintained at any height depending on your pruning. Reaches 12-15 feet tall if left untrimmed.
A thick dense hedge right down to ground level. Routine trimming leads to a denser hedge. A deciduous shrub but the lustrous green leaves stay on until late fall. The most widely used deciduous hedge in America, your privet hedge will last a lifetime. Plant one foot apart to start your hedge.
A fast grower, your privet hedge will grow 18/24″ per year once established.
Delicate white flowers May-June. Privet has natural spread of 8-10′ when planted as a stand alone.
You will receive 10 12/15″ plants.  For hedging, plant 1-2′ apart, yields approx 20′ of hedge.
Hardy in zone 3
Wondering about planting & care?
Check out our other Flowering Shrubs!
Thank You for visiting Gardenland USA!