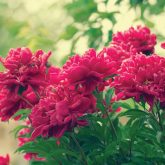 "Queens" of the Garden, Peony (paeony) will provide years of beauty! The #1 perennial produces giant double flowers in late spring.  Easy to grow, full to partial sun, winter hardy. Herbaceous variety, these will die back to the ground each fall and burst to life each spring! Peony red Rachel – Fragrant, bright red, double blooms – approx. 30″ mature height.
Deer Resistant.
Can be planted in the fall for some blooms the following spring or plant in the spring to establish for even more prolific blooming the following year.
2/3 eye root.
Wondering about planting & care?
Check out our other Perennials!
Thank You for visiting Gardenland USA!