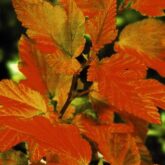 Ninebark red (Physocarpus opulifolius) reaches 8-10′ when mature. Small white flowers in May-June, copper/red foliage. A hardy, versatile deciduous shrub that grows in most soil types and does well in moist areas. Makes a great specimen plant that also produces a magnificent hedge when planted in mass.
Hardy in zones 3-9
12/15″ plant.
Wondering about planting & care?
Check out our other Flowering Shrubs!
Thank You for visiting Gardenland USA!