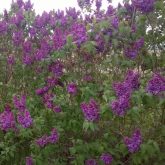 Old Fashioned Sub Zero purple lilac has one of the most fragrant blossoms in the world. Syringa vulgaris produces lavender flower clusters which bloom from mid to late spring and will fill your yard with sweet smelling fragrances for weeks, if not months. Butterflies love their fragrance and nectar as well. Lilacs make excellent hedges for privacy or can be a specimen or accent plant as well.  Lilacs prefer full sun but will grow well in partial shade. They are naturally pest resistant and will adapt to most soil conditions. Known for their cold hardiness, a mature plant will reach 15-20′ tall and 6-10′ wide.
Attracts Butterflies!
12/15″ plant.
Hardy in zones 3-7 without protection.
Wondering about planting & care?
Check out our other Flowering Shrubs!
Thank You for visiting Gardenland USA!