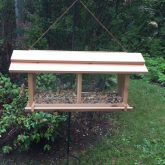 Our King Combo Feeder is handcrafted of Cedar and rugged acrylic "glass". Featuring  brass hardware and hinges for long life. Piano-Hinge Roof lifts for easy filling of 2 separate chambers, each holding 10lbs of seed. Attract more birds with large feeding area and ability to use 2 kinds of seed!
12″ H x 11.5″ D x 26″ W
Handcrafted in our own woodworking shop, your feeder requires no assembly.  Comes with Nylon cord for hanging, can also be post mounted with your hardware.
Check out our other Feeders & More!
Some great information on feeding birds.
Help your feathered friends to share the good life…