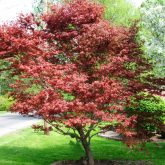 Japanese Red Leaf Maple (Acer palmatum atropurpureum) features fiery red lacy leaves in spring, summer and into the fall  Grown for centuries in Japan, this unique tree has been popular around the world since the 1800's. Grow as a small tree or an upright multi stemmed shrub.  Excellent specimen tree as a focal point of your yard. Small size of tree and compact non invasive root system lends well to use in limited space and urban gardens.  Also does well in containers.  Prefers shade in hotter climates.
Mature plant reaches 15-20′.
12/15″ lightly branched tree.
Hardy in zones 4-8
Wondering about planting & care?
Check out our other Ornamental & Flowering Trees!
Thank You for visiting Gardenland USA!