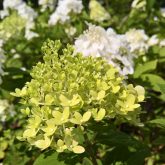 Hydrangea paniculata mist features large misty green panicles late summer through early fall turn pinkish to dark red in fall.   You can use this plant as a border, cut flower, dried flower, specimen or if trained, as a tree. Mature plants can produce flowers up to 18″ long and 10″ wide. These gorgeous flowers appear in August and remain on the plant until the first hard frost.  Shrub 6-8′ tall when mature. Full to partial sun.
12/15″ plant.
Hardy in zones 3-8 without protection.
Wondering about planting & care?
Check out our other Flowering Shrubs!
Thank You for visiting Gardenland USA!