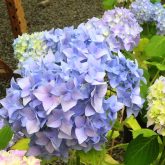 Hydrangea macrophylla blue, is the standard for blue flowers in your garden. The flower "MOPS" can grow up to 6′. Once started these plants can bloom almost all summer. These flowers will stay true blue in most soil types, but like all classic hydrangeas, the flowers will lean toward lavender or pink if the soil is less acidic (Acid soils with pH less than 5.5 = blue, greater than 5.5 = pink). These beautiful flower "MOPS" are perfect for cutting and also great for dried arrangements. They will grow 4-6′ wide and tall in warmer zones.
Hardy in zones 5/6-9 without protection.
Wondering about planting & care?
Check out our other Flowering Shrubs!
Thank You for visiting Gardenland USA!