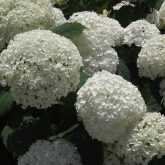 Hydrangea AG Hills of Snow (aborescens grandiflora) is a classic flowering shrub. You can use this plant as a border or specimen.  Great for cut or dried flowers. These gorgeous  globe like white flowers appear in early summer and remain on the plant until the first hard frost. The flower heads turn to rusty/pink in the fall. Blooms dry to a rusty brown in the autumn. AG hydrangea blooms do not change with the pH level of the soil. Mature height 4-5′
12/15″ plant.
Hardy in zones 4-8 without protection.
Wondering about planting & care?
Check out our other Flowering Shrubs!
Thank You for visiting Gardenland USA!