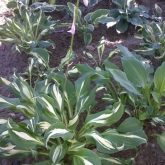 Hosta (Hosta undulata albomarginata) or Plaintain Lily is an excellent choice for shady areas. Attractive foliage and flowering herbaceous perennial which is especially useful in cool, moist, shady places. Handsome green & white leaves 6-8″ long and 4-6″ wide.
Easy to grow. They prefer partial shade, however will handle full shade to full sun. Clear lavender blooms in July & August. Most effective in the landscape planted in groups. Makes an excellent potted plant for your patio – they can even be brought indoors in early spring where the leaves quickly develop.
Can be planted in the fall for spring foliage. or plant in the spring to establish for even more prolific foliage and blooming the following year.
Husky #1 Root.
Wondering about planting & care?
Check out our other Perennials!
Thank You for visiting Gardenland USA!
You will receive a husky root crown packed for shipment.

Root is packed in proper media and wrapped in poly bag for maximum viability till you are ready to plant. Protective package contains pictures and all the information you need to successfully plant your Hosta.