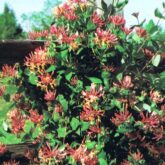 Honeysuckle Dropmore Scarlett is a beautiful, vigorous, heat tolerant vine.  The flowers are scarlet red with orange throats and will bloom from June till frost.  Vine produces red berries that can persist to winter for 3 seasons of show!  Very hardy and grows up to 20′ tall with support and 2-3′ wide. Without support or trellis, will spread as a ground cover.
Flowers attract hummingbirds, Berries attract winter birds!
8-12″ plant
Hardy Zones 3 – 8
Wondering about planting & care?
Thank You for visiting Gardenland USA!
Restricted State – WI, IL
You will receive a 12/15″ well rooted plant, packed for shipment. Along with detailed instructions.

Root is packed in proper media and wrapped in poly bag for maximum viability till you are ready to plant. Protective package contains pictures and all the information you need to successfully grow your wisteria vine.