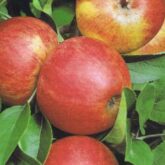 Whitney crabapple features large (golf ball size), crisp, juicy, sweet-tart fruit with ruddy yellowish skin overlaid with red blush.  One of the few crabapples you can eat fresh off the tree! This heirloom variety dates to 1869, perfect for environmentally conscious gardeners and home owners. Pinkish white blooms in spring lead to late August – early September harvest.
For best crop, requires pollinators – Try our Delicious Pack
Whitney crabapple tree features good disease resistance and a  smaller stature at maturity making  it perfect for the home gardener.
Great for attracting deer and other wildlife!
Mature plant reaches 12-16′.
2.5′ Lightly branched tree.
Hardy in zones 4-10
Wondering about planting & care?
Check out our other Fruit Trees
Thank You for visiting Gardenland USA!