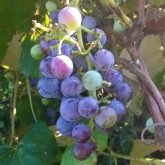 Grape Concord – The #1 grape for sweet, tangy juice, jams, jellies, pies and nutritious snacking. Concord grape vines are easy to grow for prolific fruiting. Vines are tough, hardy and vigorous.  Ripens late September.
Easy to grow, on trellis, porch, arbor or walls. These #1 grade grape vines will last for generations and provide healthy, fresh, juicy, sweet, mouth watering fruit.
Dual purpose plant – fast growing shade forming vine that attracts birds and bees to your yard or garden!
(vitis labrusca)
This self pollinating vine grows well in zones 5-9.
Wondering about planting & care?
Check out our other Grape Varieties!
Thank You for visiting Gardenland USA!
Restricted States – CA, ID, WA