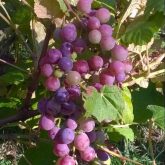 Grape Catawba is an American variety that is used for wines, champagnes, juices, jams, jellies and just plain eating. Vine will remain productive for 50 years with proper care. Medium to large size red fruit keep well and are widely planted for their sweet rich flavor.   Plant a second variety for even better production! A mature vine can produce 15-20 lbs. Prune during winter months.
Easy to grow, on trellis, porch, arbor or walls. These #1 grade grape vines will last for generations and provide healthy, fresh, juicy, sweet, mouth watering fruit.
Dual purpose plant – fast growing shade forming vine that attracts birds and bees to your yard or garden!
(vitis labrusca)
This self pollinating vine grows well in zones 5-8.
Wondering about planting & care?
Check out our other Grape Varieties!
Thank You for visiting Gardenland USA!
Restricted States – CA, ID, WA