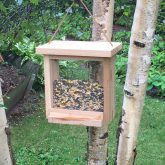 Gardenland USA's Friendly Feeder is a quality American made value priced wood bird feeder. Perfect for beginners and gift giving!
Basic feeder holds approx 2.5 lbs seed.
Nylon Cord Hanger
Roof Lifts for easy filling
Beautiful Eastern Cedar construction with acrylic glass.
8″ H x 8″ W x 5″ D
Handcrafted in our own woodworking shop, your feeder requires no assembly.
Check out our other Feeders & More!
Some great information on feeding birds.
Help your feathered friends to share the good life…