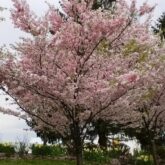 Flowering Kwanzan Cherry tree (Prunus serrulata) features double pink blossoms and a symmetrical vase shape.  This iconic flowering tree known for its show stopping spring display and the star of the Washington D.C. cherry blossom festival, is a sure sign of Spring.  Works great as a specimen or in mass plantings along driveway or roadway. Prefers well drained soil and full sun.
Mature plant reaches 20-25′
4′ Lightly branched tree.
Hardy in zones 5-8
Wondering about planting & care?
Check out our other Ornamental & Flowering Trees!
Thank You for visiting Gardenland USA!