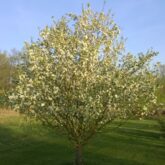 Flowering Crab Snowdrift (malus snowdrift) features pinkish buds opening to large pure white flowers in spring time.  Small orange-red fruit in late summer through fall attracts wildlife.  Glossy leafs highlight a generally upright rounded habit. A hardy and adaptable tree of compact height, it works well as a specimen or planted in groupings. You will obtain best flowering if planted in full sun. Tree is adaptable but does best in well drained soil. Snowdrift is resistant to scab.
Mature plant reaches 15-20′.
4′ Lightly branched tree.
Hardy in zones 4-8
Wondering about planting & care?
Check out our other Ornamental & Flowering Trees!
Thank You for visiting Gardenland USA!