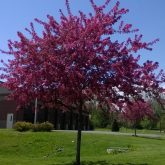 Flowering Crab Prairiefire (malus prairiefire) features red flower buds opening to dark pink-red flowers in spring time.  Small dark wine red fruit in late summer stay well on the tree, providing a fall show.  Prairiefire has a generally upright habit but will become more rounded as it ages. A hardy and adaptable tree of fairly compact height, it works well as a specimen or planted in groupings. You will obtain best flowering if planted in full sun. Tree is adaptable but does best in well drained soil.
Mature plant reaches 20-25′.
4′ Lightly branched tree.
Hardy in zones 4-8
Wondering about planting & care?
Check out our other Ornamental & Flowering Trees!
Thank You for visiting Gardenland USA!