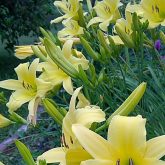 Daylily Stella d' Oro or (Hemerocallis stella d' oro) is a magnificent hardy plant that thrives in all sections of the country.  A dense clump of deep green foliage, with upright stems of fragrant, golden-yellow flowers.  More compact then regular daylily with brighter color of bloom. 
Easy to grow. They thrive in sun or shade, even in poor soil. Most effective in the landscape planted in mass. Attractive green foliage. Grows 10″ – 12″ tall.
Can be planted in the fall for spring flowers. or plant in the spring to establish for even more prolific blooming the following year.
Husky #1 root.
Wondering about planting & care?
Check out our other Perennials!
Thank You for visiting Gardenland USA!
You will receive a husky root crown packed for shipment.

Root is packed in proper media and wrapped in poly bag for maximum viability till you are ready to plant. Protective package contains pictures and all the information you need to successfully plant your daylily.