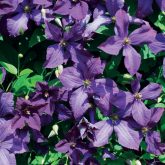 Clematis Jackmanii has beautiful deep purple-violet 5″ flowers in gorgeous masses that bloom from June to September. This vigorous grower will be 10-12′ tall (can reach up to 18′). It also attracts bees and butterflies.
One of the most popular flowering vines of all time! Clematis are easy to grow from north to south. Blooms in 60 – 90 days from spring planting. Mature vines produce 100's of flowers to frame porches, cover rock piles, and adorn trellises and light poles. Great in combination with other plantings!
Prune hard in February. (Group 3)
Hardy Zones 4-9
Wondering about planting & care?
Check out our other Clematis!
Thank You for visiting Gardenland USA!
You will receive a well rooted vine, propagated and grown in a controlled and inspected greenhouse environment. Your plant will be professionally pruned and packed to arrive viable and ready to plant. The most economical way to start improving your landscape.

Root is packed in proper media and wrapped in poly bag for maximum viability till you are ready to plant. Protective package contains pictures and all the information you need to successfully grow your clematis vine.