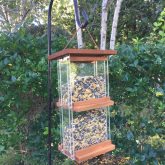 Our "Clearvue" Super Tower Perch feeder allows maximum seed visibility for the birds and maximum viewing opportunity for you.  Easy opening top for ease of filling.
See the Birds better with this "Clear-Vue" feeder
Uses any regular seed or seed mixture to attract small song birds
4-sided visibility lets birds see the seed.
8 seed ports with wood trays
Basswood with natural linseed oil stain and acrylic glass construction
13.5″ H x 5″ D x 7.75″ W
Handcrafted in our own woodworking shop, your feeder requires no assembly.
Check out our other Feeders & More!
Some great information on feeding birds.
Help your feathered friends to share the good life…