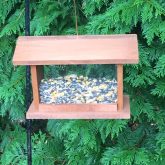 Attract many types of birds depending on your seed mix through self filling feed troughs with our "Carefree" Prince Diner bird feeder.  This economical, handsome self-hanging, wood feeder is hand crafted to provide many seasons of birch watching!
Classic Designed Feeder
Holds over 5lbs of seed
Attractive Copper Roof Trim
Nylon Cord Hanger
Roof Lifts for easy filling
Basswood with natural linseed oil stain, acrylic glass
Handcrafted in our own woodworking shop, your feeder requires no assembly.
7.5″ H x 7.5″ D x 11.5″ W
Check out our other Feeders & More!
Some great information on feeding birds.
Help your feathered friends to share the good life…