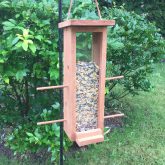 Chickadees, Nuthatches, Titmouse, Pine Siskin, Redpolls plus many more regional birds will flock to the Hi-Rise perch feeder.  Attract small Songbirds using regular seed mix!
Four Seed Ports plus base feeding
Holds over 2lbs of Seed
Nylon Cord Hanger
Roof Lifts for easy filling
Crafted of native basswood with natural linseed oil stain, and rugged acrylic glass
Individually handcut, sanded and assembled
13″ H x 5″ D x 4″ W
Handcrafted in our own woodworking shop, your feeder requires no assembly.
Check out our other Feeders & More!
Some great information on feeding birds.
Help your feathered friends to share the good life…