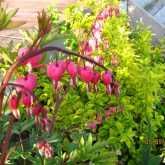 Bleeding Heart (Dicentra spectabilis) has been a mainstay of gardeners for over a century! This perennial produces delicately arching sprays of rosy red and white flowers every May & June.
Easy to grow. They can be grown in full shade or in full sun, however, for best results chose a partially shaded location. This will insure their fullest color and greatest beauty.
Deer & Rabbit Resistant. Attracts Butterflies.
Can be planted in the fall for blooms the following spring or plant in the spring to establish for even more prolific blooming the following year.
2/3 eye root.
Wondering about planting & care?
Check out our other Perennials!
Thank You for visiting Gardenland USA!
You will receive a husky root crown packed for shipment.

Root is packed in proper media and wrapped in poly bag for maximum viability till you are ready to plant. Protective package contains pictures and all the information you need to successfully plant your bleeding heart.