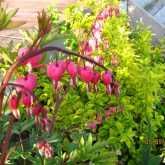 Bleeding Heart (Dicentra spectabilis) has been a mainstay of gardeners for over a century! This perennial produces delicately arching sprays of rosy red and white flowers every May & June.
Easy to grow. They can be grown in full shade or in full sun, however, for best results chose a partially shaded location. This will insure their fullest color and greatest beauty.
Deer & Rabbit Resistant. Attracts Butterflies.
Can be planted in the fall for blooms the following spring or plant in the spring to establish for even more prolific blooming the following year.
2/3 eye root.
Wondering about planting & care?
Check out our other Perennials!
Thank You for visiting Gardenland USA!