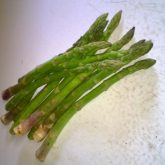 Nature's Finest early season vegetable, asparagus officinalis (Viking KB3) is an improvement over the classic variety Mary Washington.  It produces Inch thick stalks of delicious goodness! Harvest healthy fresh asparagus – straight to your table! Does best in full sun to partial shade. Plant in deeply worked soil, 12"- 18" apart.
A perennial vegetable you will enjoy for years to come. Plantings can be productive for 20+ years with proper maintenance. Easy to harvest, best when prepared/eaten fresh!
Zone 3-9 hardy, resistant to rust and produce good yields.
Wondering about planting & care?
Thank You for visiting Gardenland USA!
Bare Root – (25) 2 yr plants
Packaged – (6) 1 yr plants
You will receive 25 plants, packed for shipment. Can be stored in refrigerator (38-40F) up to 2 weeks.

Each pack contains 6 plants packed in proper media to maintain viability and for growth to start.  Package contains planting & harvesting instructions.  Long shelf life if you're not quite ready to plant or want to share the bounty with family or friends.